Although SolarView provides access to sophisticated information, configuring it is easy. The only items that must be configured are your SolarEdge site identifier and your SolarEdge API key. All other configuration items are either automatically configured or are optional. In this section we will describe each configuration item.
Initial Configuration – The first time that you run SolarView, you will be immediately prompted to validate the system:

Click OK and then enter the required information as described below to validate your SolarEdge system and register your copy of SolarView. Once you have validated the system you will not need to do so again: this is a one-time configuration.
SolarEdge Validation – These settings allow you to set the Site ID and API Key for your site.
The Site ID is a seven digit ID that is unique to your SolarEdge system. This number is normally provided to you by your solar installation company, along with your login access (username and password) for the SolarEdge web site. If your installer did not provide you with this information you must contact them, or contact SolarEdge directly, to request it. You will not be able to use SolarView without this information.
Once you are able to log in to the SolarEdge web site you will be able to obtain an API Key from the site. The API Key is unique for each site and allows you to access data about your inverter.
To obtain your API key, log in to the SolarEdge site and click the Admin icon, then "Site Access" as shown below: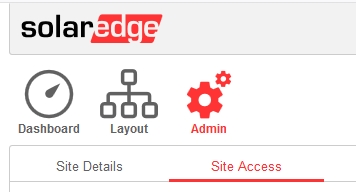 You will see a section titled API Access. Check the box indicating that you have read the terms of API access, then click New Key to obtain your key:

From this screen, you can create an API Key by clicking New Key. Important: Before this API key will work, you must click the Save button. Once you have created the API key, copy it in its entirety, and then paste it into the validation section in Settings.
You must also enter your email address in order to receive notifications. This is the email address that will be used by SolarView to send you notifications about problems and errors with your solar energy system. Once SolarView is up and running, you will be able to go to the Settings menu to enter your cell phone number to receive text notifications from SolarView when errors or anomalies are detected. (Be assured that your email address and phone number will not be sold or shared with third parties for any marketing purpose.)
Click the Validate button to validate. If validation is not successful this will be indicated in red:

Double check your information and try again. Once your validation is successful, the system will automatically provide your inverter serial number, and the latitude and longitude of your site:
At this point you may click the Done button, and the SolarView monitor display should appear on your screen.